Add Comment |
Related Links |
TrackBack

Related Content
Western Digital 2TB Elements External Hard Drive is Excellent for Entertainment
A few weeks ago, I reported that the Seagate 1.5TB Expansion External Drive doesn't cut it for a digital entertainment center because of its low RPM, even though its sleek black enclosure is perfect. A few days ago, I found the best of both world. The Western Digital 2TB Elements External Hard Drive has a non-flamboyant black case that houses a 7200 RPM drive. It works wonderfully delivering video, music, and other media on demand. And it work off the shelf, without you having to take it apart to replace it with a faster hard drive, like you had to with the Seagate 1.5TB Expansion External Drive.
The only difference? Drive access light is on the back of the unit. So if you are the obsessive compulsive type who must see the drive access light at all times, you might have a problem with this case. But if you are an entertainment nut, who like to keep the audience focused on the entertainment rather than the hardware components, this drive is perfect for you.
Much like the Seagate 1.5TB Expansion Drive, the Western Digital 2TB Elements Drive also has no power button. It turns on with your computer, goes to sleep when it is inactive, and turns off when your computer turns off. It's perfect is sit in the background of your entertainment center.
Chieh Cheng
Tue, 23 Feb 2010 21:33:05 +0000
A photo of the Western Digital 2TB Elements Hard Drive: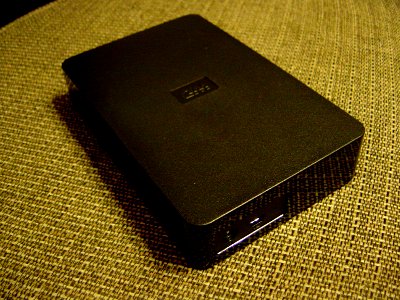 Chieh Cheng
Sun, 28 Feb 2010 21:01:46 +0000
Why would you care about the RPM other than noise and heat? The USB 2.0 interface will still be the bottleneck in terms of performance so a 5400 rpm will deliver just fine. It may have a lower access time of 14ms as opposed to 9ms but you won't be using it as a boot drive anyway given it's an external drive.
In my opinion (and many others') 5400 rpm is much more preferred for external drives since they are more silent, generate less heat and statistically speaking, last longer.
cinc
Fri, 25 Jun 2010 14:12:23 +0000
Unfortunately it doesn't cut it for storing movies and videos, where the quality is higher than standard resolution. When watching high quality video, the 5400 RPM drives causes unintended pause time during movie sequences that are unacceptable. The 7200 RPM drives does not cause these unintended pauses.
I don't know the root cause of this problem. Maybe VideoLAN (VLC) software buffers enough of the video clips where the drive has time to sleep. Once the buffer runs out, the drive has to spin up to feed the buffer. Or maybe the drive is just constantly feeding the buffer, but the 5400 RPM drive can't catch up.
But the buttom line is that the 7200 RPM drive does not cause movies to stop, whereas the 5400 RPM drive causes the movie sequence to stop every 5 minutes or so. Both drives were installed in the same Seagate enclosure.
Chieh Cheng
Fri, 25 Jun 2010 15:28:14 +0000
Add Comment |
Related Links |
TrackBack

Related Content
Did your message disappear? Read the Forums FAQ.
TrackBack only accepted from WebSite-X Suite web sites. Do not submit TrackBacks from other sites.
Send Ping | TrackBack URL | Spam Control
Title: 5900 RPM Hard Drive Just Doesn't Cut It
Weblog: NeoSciGen
Excerpt: The Seagate Expansion External Drive is an excellent USB hard drive enclosure for digital entertainment centers. It has no power button, but sleeps after inactivity and automatically turns off when your computer is shut down. It's sleek black case really blends with other black entertainment center . . .
Tracked: Tue, 23 Feb 2010 21:33:47 +0000
Spam Control | * indicates required field
Messages, files, and images copyright by respective owners.
---

---